AND NOW A GUEST ARTICLE BUY Derek Goodman …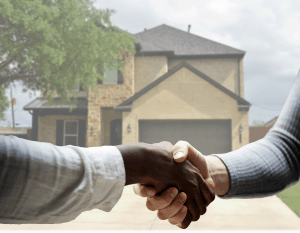 How to Get a Home Loan When You Own a Home-Based Business
When your home-based business starts to grow, this is a good thing. But what if it's growing so much that you need to purchase a larger home? This can get tricky because applying for a home loan when you own your own business is sometimes a little harder than when you are employed by a company. But don't let this dissuade you! It is perfectly possible for a small business owner to apply for — and get approved for — a home loan. Here are some of the ways you can improve your chances.
Keep your records organized.
Staying organized is important for keeping your business running smoothly, in general, but it's especially crucial when you're preparing to apply for any kind of loan. All of your tax returns, payroll records, and sales records should be saved for at least three years, but holding onto them longer is advisable so that you yourself can track business progress. Other records, such as employment taxes and bad debt reduction claims, should be kept even longer. You should keep both digital and paper copies of your financial records. Having good accounting software will help you stay organized and accurate. If you are working with an accountant, ask them to help you maintain your records.
Don't take so many write-offs.
This may sound counter-intuitive, but if you intend to apply for a home mortgage sometime in the near future, start reducing your tax deductions. Yes, typically you want those deductions for equipment, travel, and other expenses. But in this case, they could hurt your chances. Talk to your accountant about your plans to get a loan and upsize your residence. They can help you figure out how many deductions to take, so your income doesn't look too low.
Try to get rid of some debt.
Raise your eligibility for a loan by getting rid of debt. There are several ways you can do this. See whether your loans can be consolidated into a single sum with lower interest. Pay off your higher-interest loans first, if possible. Or, try using the snowball method of debt reduction, which involves paying off debts based on the size of the balance, starting with the lowest. You may even be able to get your creditors to work with you by lowering interest rates. Reducing debt may also free you up to make a larger down payment, which is another way you can increase your purchasing power.
Find a less expensive home.
If you can find a residence that meets your needs for a lower cost, you can take out a smaller loan. Study the market to see where property prices are lower. If it's possible for you to run your business outside city limits, rural properties are often less expensive. Or, look for homes that are being sold as-is. A house that is sold as-is means exactly what it sounds like: There will be no room for negotiations with the seller regarding needed repairs. This doesn't necessarily mean the home will be in disrepair. Some homeowners sell as-is just to facilitate a quick transaction, which could also work in your favor. Nevertheless, consult a lawyer and have the home inspected before moving forward.
Applying for a loan as a self-employed business owner is certainly more work due to the extra documentation required. If you've been writing off expenses, your debt-to-income ratio may look lower than it would otherwise. But you should still be able to get a loan and upsize to house your business if you plan well and maintain good records. If you're considering a mortgage for a home purchase in Calgary, contact Mark Herman for a customized mortgage that meets your unique needs. Call 403-681-4376.
Best,
Derek Goodman
What is everyone doing with the money they saved during Covid?

Eating out, travel, debt reduction and BUYING HOMES!
Mortgage rates are low and home prices are close to 2005 levels!

Mortgage Mark Herman, Top Calgary Alberta Mortgage Broker
Latest Bank of Canada Survey:
As COVID-19 continues to be pushed down in Canada, consumer spending is expected to go up.  The latest survey by the Bank of Canada suggests that will lead to an even greater demand for homes.
The Bank of Canada's Survey of Consumer Expectations… indicates:
40% of respondents managed to save more money than usual during the pandemic.
They expect to spend about 35% of those savings over the next 2 years on activities that have been restricted during the pandemic, such as dining out.
Respondents plan to put 10% of their savings toward debt repayment and
10% toward a down payment on a home.
14% plan to buy a home soon, much of that was driven by renters, with 20% saying they want to get into the market.
80% of the respondents who have "worked from home" expect to continue with that and there is a consistent with the shift in demand for larger properties, away from city centres.