With rates on the rise, is it worth a 2nd look at longer term mortgages?
Data: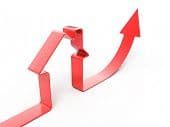 Rates have substantially increased over the last 6 of months. We have seen 3 prime rate increases with more on the horizon.
Fixed rate mortgages have also followed suit due to bond market instability and the increases are noticeable.
Consumer sentiment has rapidly moved from Variables rates to longer term Fixed rates of 5, 7, and 10 years.
The long-term trend for rates is up!
The advantage of Fixed rates is that they provide clients with added security and stability against this recent storm of volatility. This storm doesn't seem to have an end in sight either with many questions still to be answered in the coming months. When will bond rates stabilize?  Will global pressures continue to drive increases?  Will we see a return to historical norms? What will be the impact of recent events on the Canadian economy? Read More