The First-Time Home Buyer Incentive (FTHBI) officially starts on September 2, 2019. Introduced help first-time home buyers, the FTHBI will provide shared equity loans of 5% toward the down payment of a resale home, and 5% or 10% for newly-built homes.
The idea is that by boosting the size of buyers' down payments, the FTHBI lowers the monthly mortgage payment and is some relief on the costs of home ownership.
Details of Qualification
To qualify for the FTHBI, home buyers must satisfy the following:
At least one person in the household must be a first-time home buyer, meaning they have not owned a home, or dwelled in a home owned by their spouse, over the last four years. (An exception is made for buyers who've had a breakdown of marriage or common-law relationship.)
Buyers must have a minimum of 5% down payment from "own resources" to qualify for a CMHC insured mortgage.
Buyers' combined household income cannot exceed $120,000. This includes the income of any guarantors co-signing on the mortgage, as well as any rental income generated if part of the home is tenanted out.
The buyers' Mortgage-to-Income Ratio (MTI) cannot exceed 4x their income, including the portion that's provided by the FTHBI. This means the maximum down payment for a resale home cannot exceed 14.99%, and 9.99% for a new build.
Details of How It Works
The funds provided are registered as a second mortgage on title, and don't incur interest.
This second mortgage must be paid back in full when the first insured mortgage matures at 25 years or when the home is sold, whichever comes first. Homeowners may pay it back as a lump sum early without penalty. (Details of how the value at the time of payout are yet to be released.)
Because it is a shared equity mortgage, the amount to be paid back fluctuates along with the value of the home over time: if the home's assessed value rises, the loan repayment will increase by the same percent. However, the same will occur if the home has lost value by the time it is sold or the mortgage matures.
There are more details on the last post on savings including this chart below: https://markherman.ca/updates-to-cmhc-first-time-buyer-incentive-program/
Savings Over Time
This is a handy chart to see the savings on the monthly payment when using the program.
OVERALL
The program looks to be a helper for saving on payments and that is a great thing.

Mark Herman, Top& Best  Calgary Mortgage Broker
Yes, the Big-5 banks do not love you, they love your money.
Now they can "trap" you in their mortgages with the Stress Test to get more of your money that they love!
Highlights of the article below show how the new mortgage rules – called the B20 – allow the banks to renew you at almost any rate they want – or at least not a competitive one – if your credit, income, or debts should mean you can't change banks.
If your mortgage is at your main bank they can see:

what your credit score is

your pay and income going into your accounts

your debt payments


other debt balances on your credit report

your home/ rental addresses so they can accurately guess at your home value.
AND this means
they can calculate

if you can pass the new "Stress Test."
If you can't pass it then they know you can't change banks, are you are now totally locked into them for your renewal. They can
renew you at POSTED RATES … 5.39%, not actual discounted rates they offer everyone, today about 3.69%.
The GOOD NEWS is broker banks do not do any of this … so having your mortgage at your main bank only helps them "grind you" later on. …. so how convenient is having your mortgage at your bank now?
Highlights of the article link below are:
Canada's biggest banks are tightening their grip … as new rules designed to cut out risky lending make it harder for borrowers to switch lenders …  the country's biggest five banks … are reporting higher rates of renewals by existing customers concerned they will not qualify for a mortgage with another bank.
"B-20 has created higher renewal rates for the big banks, driving volumes and goosing their growth rates," said Eight Capital analyst Steve Theriault. "It's had the unintended consequence of reducing competition."
Royal Bank of Canada (RBC), the country's biggest lender, said last month that mortgage renewal rates [are up …] due in part to the B-20 regulations and also to improvements it has made to make it easier for customers to renew.
Ron Butler, owner of Toronto-based brokerage Butler Mortgage, said the changes leave borrowers with less choice.
"Even if they are up-to-date with their repayments, borrowers may find they don't qualify with other lenders so they're stuck with their bank at whatever rate it offers," he said.
Senior Canadian bankers such as RBC … and TD … voiced their support for the new rules prior to their introduction, saying rising prices were a threat to Canada's economy.
While analysts say RBC and TD are expected to benefit from higher-than-normal retention rates in 2019, not everyone is sure borrowers will benefit.
"The banks are becoming more sophisticated in targeting borrowers who would fail the stress test and they can charge them higher rates at renewal knowing they can't move elsewhere," Butler said.
Link to the full article is here: https://business.financialpost.com/news/fp-street/canadas-big-banks-tighten-grip-on-mortgage-market-after-rule-changes
We saw the "Mortgage Renewal Trap" coming long ago when the Stress Test was announced. It is more important than ever to consider Mortgage Broker Lenders for your mortgage now.

Mark Herman, Top Calgary Alberta Mortgage Broker.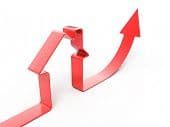 This only affects variable rate mortgages and there are 2 increases to Prime expected for 2018, this one and one in December – depending on how the economy goes.
The Bank of Canada is expected to raise interest rates on July 11th.
They normally increase Prime by 0.25% at a time, Prime is 3.45% now and should then go to 3.70%.
The Central bank also emphasized that the increase will be needed to contain inflation.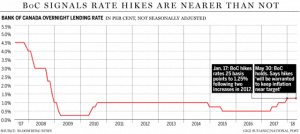 This makes the 5-year fixed rates look much better as rates are slowly going back to 4% – the Theoretical Minimum

Mark Herman, Top Calgary Alberta Mortgage Broker
Some will wonder what stopped the Bank of Canada from raising interest rates today. It does seem likely that policy makers struggled with the decision, as they had little bad to say about the economy.
The reason for the delay is the same as it's been since the start of the year: U.S. President Donald Trump. Canada's central bank remains concerned that U.S. trade-and-tax policy will weigh on Canadian business investment, so much so that it is prepared to risk a little inflation by waiting for more clarity.
Few thought the central bank would raise interest rates on May 30. Poloz had been clear that he was comfortable with inflation running a little faster than the target rate of 2 per cent. He also said last month that hard evidence on investment would be a crucial variable and no such information has yet been published.
The central bank had been wary that its three interest-rate increases since last summer would choke domestic spending. But households seem to be coping just fine, which means the Bank of Canada can resume pushing interest rates higher.
Here is the link for the entire article: http://business.financialpost.com/news/economy/bank-of-canada-holds-interest-rate-at-1-25