Buying a home should be exciting – not exhausting.
Mortgage Checklist
1. Determine your Budget
Determine what your monthly budget is for the following:
– Mortgage payment
– Property taxes and Condo fees (if applicable)
– Utilities, maintenance and repair


2. Pre- Qualification
You will be asked to provide information about yourself and whoever is going to be on the mortgage with you. All of the information that is relayed is strictly confidential. You will be provided with a Mortgage Disclosure and Consent document to review and sign. Next, your Mortgage Broker will pull your credit bureau and review your overall situation and start the document collection process so they can determine your maximum purchase price and min down payment. A rate hold can be obtained once documents have been reviewed.


3. Document Preparation
Income for Salary or Hourly Employees
– Most recent Pay Stub
– Letter of employment – must be on company letterhead and state your name, position, length of employment. Guaranteed min # of hours and rate of pay or annual salary. It also must have contact information for the lender to call to verify employment once an offer has been made.
– Last 2 years Notice of Assessments (NOAs), T1 Generals and T4 slips for any hourly overtime, commission or bonus income
Income for Self-Employed:
– Last two years Notice of Assessments and T1 generals + confirmation no CRA tax in arrears
– Last 2 years statement of business activities for Sole Proprietors
– Articles of incorporation and Last 2 years company financials for Corporations/Partnerships
Down Payment/Closing Costs
– Anti Money Laundering Laws require the lender to review your 90 day Bank or Investment account histories to verif funds in account for down payment. Any frequent or large deposits and transfers must be verified. Online statements are acceptable, but smartphone screenshots are not.
– Gift letter + gift funds deposited to account, proof of Line of Credit available or sale of existing home proceeds (if applicable)
– You are required to have 1% to 1.5% of the purchase price on top of your down payment for costs relating to the closing of your new home purchase such as home inspection, property tax adjustments, appraisal fees, title insurance, moving expenses, utility hook ups and home fire insurance.


4. Find a realtor and start looking at houses
If you do not already have one, we can highly recommended you to one of our realtor connections. You can the proceed to look for a home that is within your pre-determine price. When you have found a house that you want to purchase, make sure your realtor makes it conditional on obtaining satisfactory financing. It is best to specify 7 to 10 days. It is also recommended to include the condition of a satisfactory house inspection.
5. Mortgage Approval
Once you have a confirmed Offer to Purchase on a house, notify your Mortgage Broker right away so they can start to work on getting the mortgage approved. At this time you will need to give your Mortgage Broker the following documents:
– Updated paystub, job letter and down payment account histories if they are more than 30 days old
– Completed & signed Offer to Purchase
– MLS listing (fact sheet) of the property, if private sale – old MLS listing or appraisal to confirm details
– Lawyer Information (Including the firm and solicitor's name, address, phone and fax)
– Copy of void cheque for mortgage payments

6. Commitment Signing
A mortgage commitment is provided to your Mortgage Broker by the lender after your deal is approved. Your Mortgage Broker will spend time to review your mortgage commitment with you and let you know about any other lender requirements that need to be fulfilled. You then need to submit those requirements in order to get a final mortgage approval.


7. House Appraisal and Inspection
If required, your Mortgage Broker will order and schedule an appraisal. The mortgage lender determines th requirement of this. This is also the time where you should arrange to have an inspection performed on the home by a certified house inspector. The main purpose of a home inspection is to determine if the home has any existing major defects or any major repairs coming up in the near future. A home inspector will determine structural and mechanical soundness, identify any problem areas, provide cost estimates for any work required and provide you with a report.

8. Condition Removal
Once the lender has confirmed they have all the required documents and the deal is approved you can contact your realtor and have the financing condition removed. At the same time, if the home inspector's report came back satisfactory, that condition can be removed as well. Do not remove conditions until all amendments to your real estate contract have been reviewed and accepted by the lender as it could affect your financing.
9. Meet with Lawyer
Once all of the conditions for the mortgage are verified and approved, the lender will package your mortgage up and send it to your lawyer whereupon your lawyer will call you in for a meeting one to two weeks before your possession date to go over the legal matters of the mortgage. You will review and sign documents relating to the mortgage, the property you are buying, the ownership of the property and the conditions of the purchase. Your lawyer will also ask you to bring a certified cheque or bank draft to cover closing costs and any other outstanding costs. Avoid signing up for duplicate Mortgage Life/Disability insurance at lawyers.
10. Possession Day
Once the transfer of money has occurred between your lawyer and the seller's lawyer, you will officially own your new home. Your realtor will arrange to meet with you at your new home and do a walk through to make sure everything is as it should be and also to give you the keys. Congratulations!


Creating happy homeowners by providing personal bespoke mortgages solutions with uncompromising service.
Mortgage Mark Herman
Mortgage Broker & Overall Happiness Creator
Mortgages Are Marvellous
Mark@MortgagesAreMarvellous.ca
Serving Clients In: Calgary, Okotoks, Airdrie, Strathmore, Cochrane, Lethbridge, Red Deer,= & Medicine Hat.
Also Serving: All areas of Alberta including: Edmonton, Sherwood Park, Fort Saskatchewan, Leduc, Nisku, Stony Plain, Spruce Grove, Beaumont and St. Albert. Wood Buffalo / Fort McMurray, Grande Prairie, Airdrie, Lloydminster AB, Okotoks, Cochrane, Camrose, Chestermere, Sylvan Lake, Brooks, Strathmore, High River, Wetaskiwin, Lacombe, Canmore, Morinville, Whitecourt, Hinton, Olds, Blackfalds, Taber, Coaldale, Edson, Banff, Grand Centre, Innisfail, Ponoka, Drayton Valley, Cold Lake, Devon, Drumheller, Rocky Mountain House, Slave Lake, Wainwright, Stettler, St. Paul, Vegreville, Didsbury, Bonnyville, Westlock, Barrhead.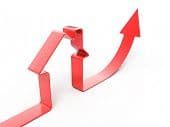 SUMMARY:
There is LOTS of room for rates to go up, and very little for rates to go down or even hold steady.
Fixed mortgage rates are predicted to rise by 40% and go back to Pre-Covid rates or higher:
2.9% (from 2.09% now) for less than 20% down; CMHC insured
3.10% (from 2.24% now) for more than 20% down; conventional / not insured.
Prime – what variable rates are based on:
The Bank of Canada has moved their target for Prime increase from 2023 to 2022.
The US Fed has moved their target for Prime increase from 2024 to 2023, and the market expects that to move to 2022 as well.
Prime is 2.45% today, it was 3.95% just before Covid (Feb, 2020) and will be trending back that way soon.
Prime – 1% is the rates for today. 2.45% – 1% = 1.45% which is a great rate but how soon and how much will it move?
This article is awesome, and clear on what the changes mean. The summary above is all you need but you love this data, then read on …
---
Canadian Mortgage Rates Forecast To Rise Over 40%, Posted Rate Can Hit 7%
Canadian inflation is marching higher, and so are the expectations for mortgage rates. One bank sees the 5-year posted rate having more room to rise than fall in the future.
The institution has forecast the posted 5-year fixed-rate mortgage can rise up to 40% by 2024.
While the posted rate is rarely the rate paid by mortgage borrowers, it does impact a number of things. More importantly, it reflects an environment where credit is tightening.
The Posted Mortgage Rate Vs What You Really Pay
The posted mortgage rate is an unusually high mortgage rate that's kind of like the sticker price of a car. It's unreasonably high, few people will use it, and it's mostly to help buyers feel like they're getting a deal. The spread between the posted rate and a lender's best available rate is usually between 220 to 250 bps. This means the rate borrows often pay is a full 2.2 to 2.5 percentage points lower than the posted rate. That doesn't mean the posted rate is useless though.
The two biggest impacts it has are on payment penalties and the stress test. If you were to break your fixed-rate mortgage early, for say refinancing at a lower rate, you have to pay a penalty. That penalty is usually 3-months of interest, or the interest rate differential (IRD). The IRD is the difference between your rate and the posted rate closest to your remaining term. Then subtract any discount you received at origination. It's pretty much what banks use to make sure you pay a big ole' penalty for changing plans.
The stress test rate is also likely to be influenced by the posted rate, but maybe not directly. Originally the Bank of Canada benchmark rate was used to determine the stress test rate. This was based on the posted rate at various banks. OSFI, the bank regulator, found it wasn't very responsive to risk though. Rather than rely on the benchmark, they established a rate floor — the minimum rate that can be used. The criteria for how the floor can evolve can change a lot from now until 2024. However, it's unlikely the stress test rate would ever fall below the posted rate. The stress test rate is currently around 50bps higher than the posted rate.
Canadian 5-Year Fixed-Rate Mortgages Have More Upside Risk Than Downside
There's uncertainty, but Canada's faster than expected recovery shows more upside than down. The five-year posted fixed rate is 4.74% currently. In a downside scenario, they see this falling to 4.40% by the fourth quarter of 2021. The upside scenario sees it rising up to 5.25% in the same quarter. Higher inflation expectations are also contributing to a stronger upside scenario.
Canadian Posted 5-Year Fixed Rate Forecast
By next year, the posted 5-year fixed rate is forecast for an even higher maximum — breaching the 6 point mark. Rates are forecast to have a downside of 4.6% in 2022, and an upside of 6.20%. In 2023, the range rises to 4.70% to 6.60% for the full year. In 2023, it gets a little more uncertain with the range widening from 4.55% to 6.95%. While the latter range is wider, it has a lot more upside than downside. The probability of it falling would likely require a substantial economic slowdown.
Since a number of factors go into a forecast, the longer the date, the more uncertainty it faces. Economic conditions would have to worsen and inflation drop for rates to fall. For rates to rise, Canada would have to continue a strong recovery, and/or see higher levels of inflation. Canada is so dependent on housing now, we likely have many people cheering on a crash to keep rates low.
Link to the full article is here: https://betterdwelling.com/canadian-mortgage-rates-forecast-to-rise-over-40-posted-rate-can-hit-7-desjardins/