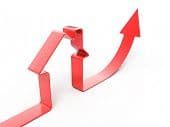 This only affects variable rate mortgages and there are 2 increases to Prime expected for 2018, this one and one in December – depending on how the economy goes.
The Bank of Canada is expected to raise interest rates on July 11th.
They normally increase Prime by 0.25% at a time, Prime is 3.45% now and should then go to 3.70%.
The Central bank also emphasized that the increase will be needed to contain inflation.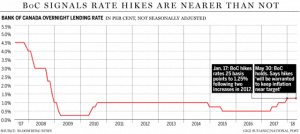 This makes the 5-year fixed rates look much better as rates are slowly going back to 4% – the Theoretical Minimum

Mark Herman, Top Calgary Alberta Mortgage Broker
Some will wonder what stopped the Bank of Canada from raising interest rates today. It does seem likely that policy makers struggled with the decision, as they had little bad to say about the economy.
The reason for the delay is the same as it's been since the start of the year: U.S. President Donald Trump. Canada's central bank remains concerned that U.S. trade-and-tax policy will weigh on Canadian business investment, so much so that it is prepared to risk a little inflation by waiting for more clarity.
Few thought the central bank would raise interest rates on May 30. Poloz had been clear that he was comfortable with inflation running a little faster than the target rate of 2 per cent. He also said last month that hard evidence on investment would be a crucial variable and no such information has yet been published.
The central bank had been wary that its three interest-rate increases since last summer would choke domestic spending. But households seem to be coping just fine, which means the Bank of Canada can resume pushing interest rates higher.
Here is the link for the entire article: http://business.financialpost.com/news/economy/bank-of-canada-holds-interest-rate-at-1-25
This is just in from TD Economics, a .75% Prime rate increase is expected to be phased in – probably in 1/4% increases – starting in July 2017 and being fully in by December.
The rates they show below are for corporate rates, consumer rates are a bit higher.
Consumer prime is at 2.7% today so that would be the same increase of .75% taking it from 2.70 to 3.45% by the end of 2017.
OBSERVATION
• Our current forecast is for the Bank of Canada to begin raising interest rates in July of 2017, increasing the policy rate to 1.25% (from its current level of 0.5%) by the end of 2017. It is possible that with additional infrastructure-led growth the Bank may choose to begin hiking rates earlier and perhaps more aggressively.
All this and more from Calgary, Alberta top mortgage broker, Mark Herman.