Should you look at 7 and 10 year terms?
With rates on the rise, is it worth a 2nd look at longer term mortgages?
Data: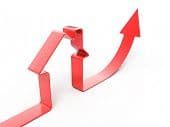 Rates have substantially increased over the last 6 of months. We have seen 3 prime rate increases with more on the horizon.
Fixed rate mortgages have also followed suit due to bond market instability and the increases are noticeable.
Consumer sentiment has rapidly moved from Variables rates to longer term Fixed rates of 5, 7, and 10 years.
The long-term trend for rates is up!
The advantage of Fixed rates is that they provide clients with added security and stability against this recent storm of volatility. This storm doesn't seem to have an end in sight either with many questions still to be answered in the coming months. When will bond rates stabilize?  Will global pressures continue to drive increases?  Will we see a return to historical norms? What will be the impact of recent events on the Canadian economy?
Some clients are more concerned with rate trends these days it's with good reason. Perhaps the interim answer to all this instability and volatility is to start looking long "term". 7 & 10 year terms to be specific.
Longer term mortgages like a 7 & 10 year term help insulate clients against potential increases in the short to long-term as well as provide safety and consistency with mortgage payments that won't fluctuate with the markets volatility.
We don't have to go back very far (6-7yrs) to a time when 10 year mortgages were a very popular and attractive option. During that period of time many case studies show this product didn't work out for those borrowers who selected those 10 year terms, however there was a major difference between that period of time and today. 6-7 years ago we were in a more stable rate environment and there was very little difference between the 5 & 10 year rates at the time. Shortly after this period, rates quickly dropped to even further all-time lows.
Compare those details to our current market situation where rates have now bottomed, and it becomes quickly apparent rates have been continually rising with more sustained increases forecasted.
If security is your top key, lets talk about a 7 or 10 year mortgage option today.
Mortgage Mark Herman
Top Calgary Alberta Mortgage Broker
403-681-4376